Few general elections have such a clear cut impact on a country (and indeed the entire EU!) as the upcoming UK general election. And there is no time better than just prior to an election to ask would-be representatives to commit to policies.
That's why we've just integrated Democracy Club's UK General Election candidate data, to enable campaigners to engage with candidates and help voters to decide their vote effectively.
Using our advanced politician lobbying tools to locate candidates based on address or postcode, campaigners can also (optionally) tag candidates based on their stance on your issue (Supportive, Opposed or Undecided) using our new 'Spank and Thank' issue stance feature.
See in action on this Demo campaign.
In recognition of their fine work we'll donate 100% of subscription fees for the month to the Democracy Club for any new accounts that sign up and run candidate targeting in the UK, plus 50% for any existing accounts who use it.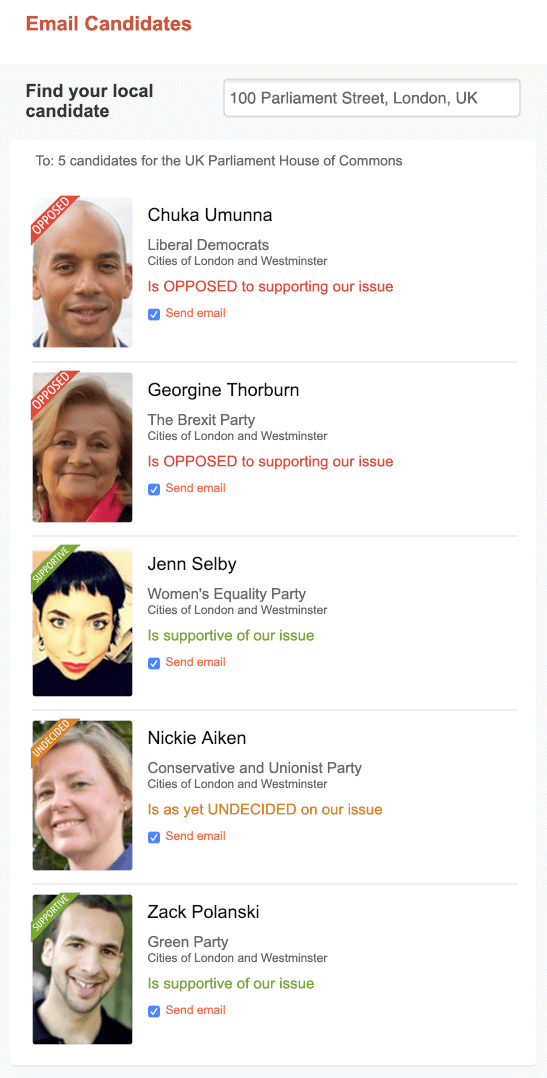 To take advantage of this advanced election campaigning toolkit just sign up to Do Gooder.