Today is World Consumer Rights Day (WRCD), a global day of action co-ordinated by Consumers International, the global peak body of 240 consumer rights groups. Consumers International works with its members and partners to empower and champion the rights of consumers and ensure they are treated safely, fairly and honestly.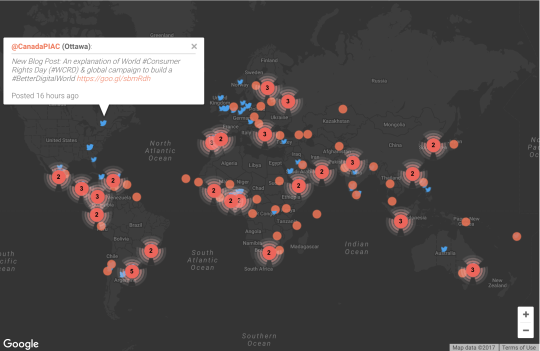 Do Gooder is proud to be one of those partners having teamed up to develop a suite of new innovative action tools – including the co-design of the event and mapping features driving the Consumer Rights Day Global Map of Events promoting and documenting the day as it rolls across the world.
Our new Event Action Tool (still in beta but live for this campaign) allows campaigners to create one or more events (WCRD has 118!) and display them on a custom map. Each event allows supporters to RSVP (also mappable) and provides an option to display #tag tweets to show online action supporting the event. What's more, actions that are taken such as signing a petition or emailing /calling a decision maker can be mapped as well, creating an exciting visualisation pre, during and after an event occurs.
Maps can be embedded in your own site or displayed on your Do Gooder microsite in the header and are coming soon to our Goodest and Pro plans.
Get your free trial now and if you'd like to go on our beta program to gain access to these tools just ping us after signing up.