When the pandemic hit in March this year, we were already working on tools to visualise support for campaigns mapped onto the physical world. We realised we'd need to do more than that if we wanted to support campaigners in a world where IRL events would be harder to organise or completely banned.
Our event actions already allowed you to display geo-located tweets and the events themselves onto maps, but what if those events had to be entirely on-line? How might we show mass support without actually turning up?  
The features below collectively represent our initial response to these questions, and they set a course for an exciting future of augmented campaigning where the online show of support is co-ordinated with, and just as important as, the IRL events themselves ...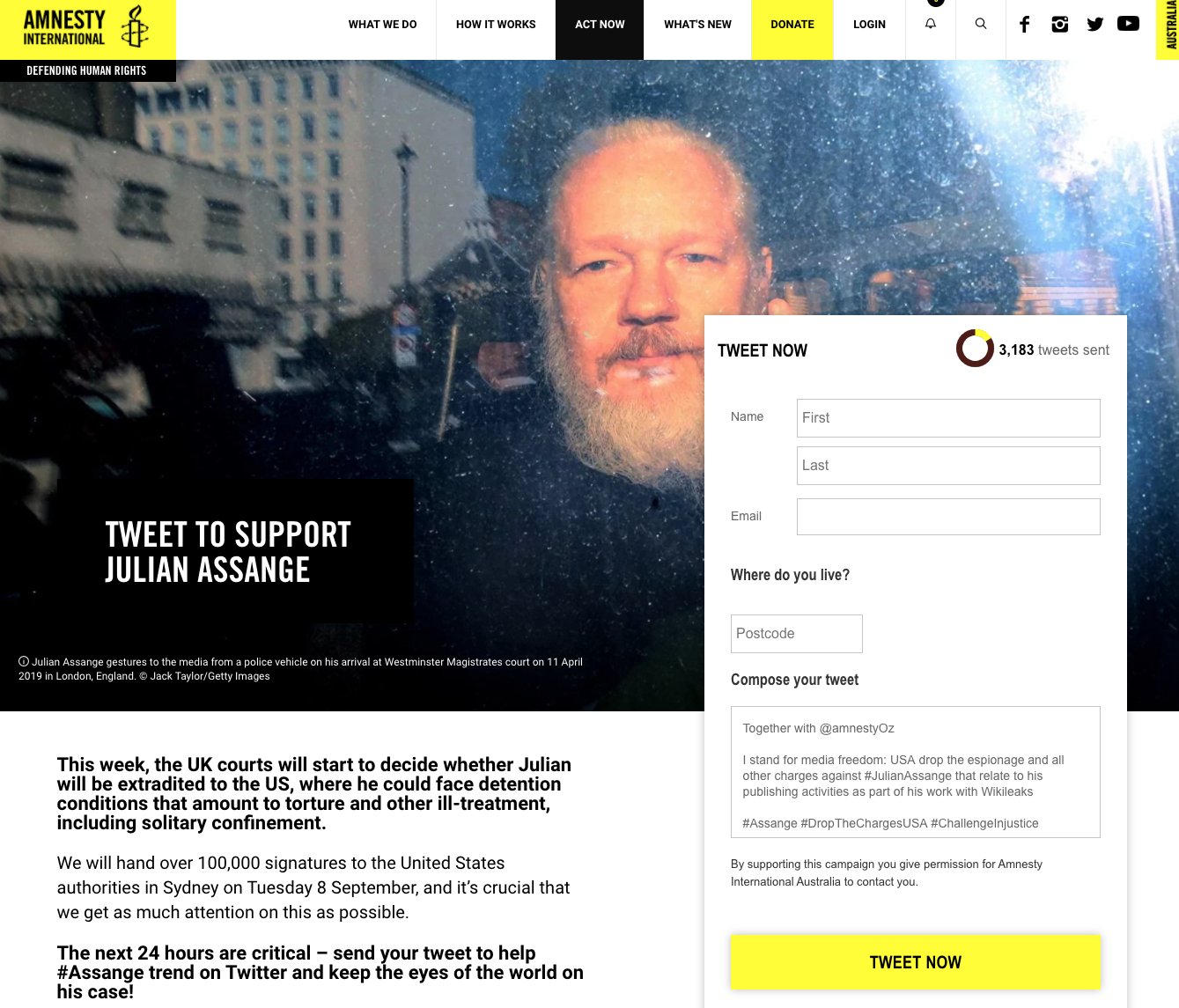 NEW: Tweet Action Tool
Twitter has become one of the most effective political communication platforms for speaking truth directly to those in power, for engaging experts and the media in debate, and for rallying a politically engaged activist community to your cause.
We explored its use ourselves in a recent COVID-19 project #crushthecurve, and saw first hand how quickly an authoritative voice can be built around a campaign from scratch. In under four weeks we were able to amass over 500 followers (many experts and influencers themselves) and our tweets were retweeted many times over, as we amplified the voices of credible independent experts.
We've taken that experience and applied it to our thinking as we build out our new Twitter Action tool. The core tool is already being used extensively by Amnesty International and is turning heads (and triggering tweet fingers), not least because you can map tweets in real-time onto your campaign site ... like so ...
See it in action on Amnesty International's campaign Tweet to support Julian Assange and the #GameOver refugee rights campaign.
Available on Goodest and Pro plans now.
---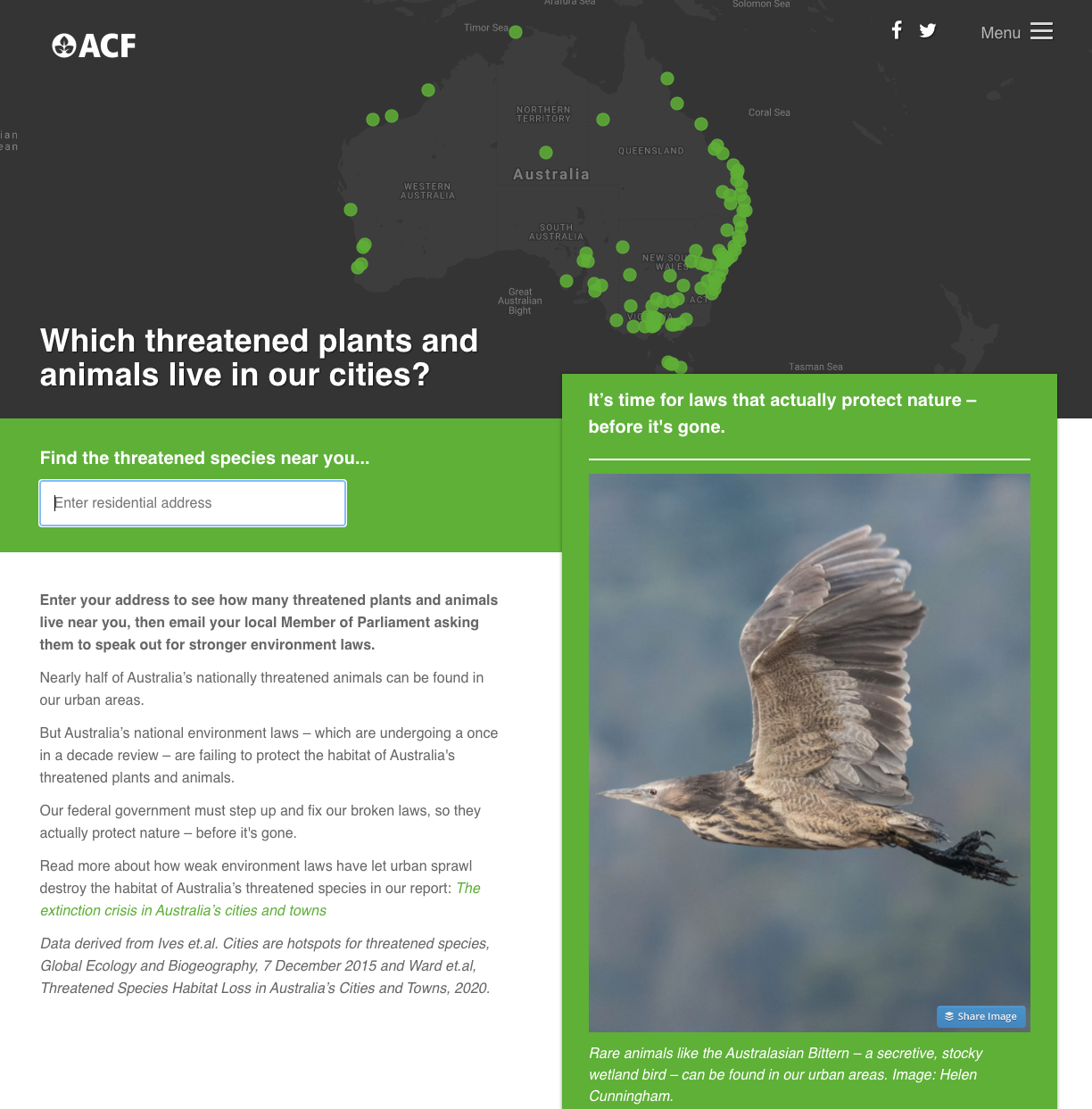 Geo-located Actions
We've take our dynamic maps further by integrating them with optional search fields to zoom into specific locations. They work with our recently upgraded Event Actions to provide exciting new possibilities to engage supporters and channel that localised support into impactful action.
Event actions can now exist without a time or date limit, becoming less events and more geo-located actions. They can be used to share location-specific information, or even act as a local group search and signup tool, or simply as an on-line only event.
A good example from the ACF in Australia is this geo-location based campaign for threatened species. This campaign also utilises our new Action Scripts which allow content templates to use logic and variables.  It's a powerful example of what can be done by pulling a number of our new features together. Conversion rates were extremely high for this novel and engaging action.
Available on Goodest and Pro plans now.
---
Public facing campaign maps
We have recently rolled out a beta release of public facing supporter heat maps for campaigners looking for ways to connect with their community when coming together is not possible. The maps show actions as they happen.
In the post-pandemic era we need new ways to show that our communities want change. With ongoing limitations placed on IRL events expected to continue for the foreseeable future, we're developing new support visualisation tools.
The first of these, real-time campaign heat maps, are designed to impress the public as well as decision makers. They are now in beta and available for Goodest Pro campaigners to try out. All actions that include a postcode or address lookup can be mapped (opt-out, with privacy protected) providing powerful virtual protest and other creative visualisation possibilities.
Available on Goodest and Pro plans now.
---
Bulk geo-located action/event importer
Adding dozens, or even hundreds, of events or geo-located actions can be tedious if  you need to do it manually. Life's too short for that, so we introduced a bulk importing tool for these actions. Just fill out a spreadsheet (template provided) or tap into your volunteer base by sharing the work, export a CSV and import the actions in bulk!
Available on Goodest and Pro plans.
---