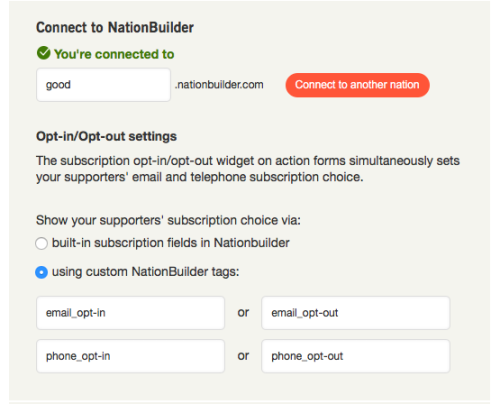 You can plug Do Gooder actions into almost any web site (including WordPress, SquareSpace, Shorthand Social and Facebook). One of our most popular integrations is with the community building platform NationBuilder which also includes seamless data syncing.
And now we've taken it even further allowing you to choose how subscription options are synced. Each campaign can have it's own opt-in/opt-out tags leaving the global subscription flags untouched. This gives advanced campaigners the flexibility to run multiple campaigns within Do Gooder, provide one or more subscription options while ensuring campaign subscriptions do not effect organisational subscription settings.
We also implemented deeper data syncing functionality in our latest update –  ensuring more data is synced to your Nation than ever before. So data that is captured in Do Gooder –  like the full residential address of your supporters – is passed to your supporter's file in your Nation.
Learn more about the integration of Do Gooder with NationBuilder.
(Photo by Ivana Cajina on Unsplash)